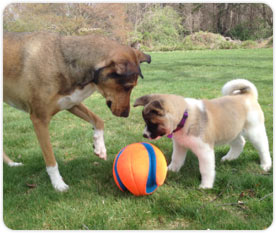 Cooper was sent to her new home at 12 weeks with antibiotics for "kennel cough". It became clear within a few days that she had more than kennel cough. We had a very sick puppy on our hands. The shelter offered to take her back, but we were already in love with her and knew this would be a death sentence.
We took her to an emergency/specialist veterinary hospital, where she was diagnosed with a severe case of viral & bacterial pneumonia. She struggled to breath and could barely lift her head. The prognosis was not good. After a week in an oxygen cage and intensive diagnostics and treatment ($5000), she was sent home with a 50/50 chance of surviving. She remained on antibiotics, decoupage and a nebulizer every 4 hours for 2 months. Her racking cough would not go away. At this point we introduced System Saver to her regime and she stopped coughing within 48 hours.
She continued to recover and today she can run endlessly with no sign of the damage her lungs suffered.
Rebecca B., S. Hadley MA