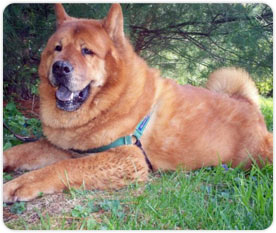 I adopted Harry in November 2001 from the local SPCA. At that time, I was told that he was around one and a half years old. Occasionally, I noticed that he had some sensitivity in his hind legs, but he seemed healthy and active otherwise. In 2004, I took him to the vet with what I believed was a urinary tract infection. X-rays were taken and they revealed that Harry had severe hip dysplasia, and barely had any hip joints at all. The vet recommended that he have hip replacement surgery.
For reasons both financial and logistical, I started looking for alternatives to surgery which led me to a veterinary acupuncturist. From him, I learned about System Saver and I decided to try it. Almost immediately, I noticed that Harry's energy level and mood seem to lift. His mobility improved and he wanted to extend our walks for miles. Harry remained the picture of health until September, 2010. I came home from work one night to discover that he had chewed 1/2 of his tail off. The scene was so shocking that I can barely bring myself to describe it. Tail wounds are like head wounds in that the bleeding is profuse. I took him into an emergency room where they performed surgery to remove the mutilated portion of his tail. What followed this surgery was an expensive medical odyssey that ultimately never conclusively diagnosed my dog's condition. Around the same time, a friend's dog had to be put to sleep because of the sudden onset of severe seizures. I shared Harry's plight with a family member who is also a highly regarded physician. He told me that dogs sometimes contract an illness that is similar to meningitis and that they do one of two things: they self mutilate or they begin seizing until they die. Although I cannot prove that my friend's dog with the seizures and Harry's self-mutilation are related, I feel in my gut that they both had a meningitis-like illness.
The different outcomes with my friend's dog and Harry's are that Harry was on System Saver. I believe that while Harry did become ill, his body was able to recover because of the support that System Saver gave him. We're a year and a half out from the tail mutilation and Harry is not on any prescription meds (to the tune of $500 a month). He is 12+ years old and happily drags me on 5 mile walks each day, plays with his cat and loves to visit friends. My boy is happy, healthy, bossy, beautiful and he doesn't seem to know he is an old man.
I've been so impressed with the improved quality of life that System Saver has given my dog.
Molly