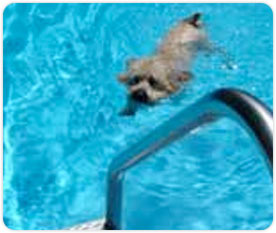 In August 2009, Maddy, our beautiful, happy-go-lucky nine-year-old Soft Coated Wheaten Terrier, developed a rash on her stomach. I took her to many vets and they kept prescribing antibiotics which I could see were not working. The rash continued to get worse, so much so that it appeared to manifest as flesh-eating disease.
Poor Maddy lived with this – in misery and confined to an Elizabethan collar – for three months before a vet ordered a culture. The vet informed me that Maddy had MRSI and that I should "get rid of her." Shocked, saddened, scared, and in no way willing to "get rid of her," I was intent on finding a solution. I took Maddy to a canine dermatologist. The news wasn't good. Only one antibiotic gave her a small chance of survival. Although she did respond, there were no guarantees that the MRSA would not return. If it did, it was likely that it would not respond to any antibiotics, and we would lose her.
A friend suggested that I speak with the folks who developed System Saver. I did, and that's when Maddy turned around. She's been on System Saver ever since. She's happy, healthy, and most people think she's a puppy. This fascinates me, because Maddy's had a history of joint problems. Although she always loved to swim, she didn't go in the pool at all in 2009, and she went in very rarely in 2008. I could see that she was in pain. Well, this summer, she's been swimming many times! In fact, when I ask her if she wants to go for a swim, she dashes down the stairs and heads right for the door, eager to do a belly flop! As for the MRSA, it's nowhere in sight, and no one has any worries that it will return. Thank you, System Saver!
Sherri Adelkoff, Pittsburgh, PA