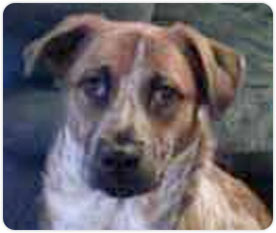 Sierra, a puppy, arrived in our lives with double hip dysplasia and some knee issues. She couldn't walk two blocks to the kids' bus stop without limping home. The next day she would only walk if she had to. We were not given many options for treatment, but having used System Saver before for our other animals, we decided to try Sierra on it.
We started Sierra on 3 pills a day to see how she did.
Boy, did she have a big quick turnaround as far as the pain goes! I took her for a walk about 4 blocks and then back home and she didn't even limp the next day. By Day 3, Sierra was playing with a little dog. I thought, okay, she would not be able to walk in the morning. Well, she got up this morning and when I brought her outside, she ran around like a banshee. It was like there was nothing wrong with her hips. She seems like she isn't in any pain. I know at some point she will have to get new hips. But at least now she can live each day with her family without all the crying from the pain.
My other 10-year old Shepherd mix couldn't walk because her back was really bad with arthritis.
The vet put her on all these pills that didn't work. Then we put her on System Saver and she walked until she was 14. The vet couldn't believe it, and now he will not believe how well Sierra is doing. Now Sierra plays like the carefree puppy she is.
We can't thank you enough. There is nothing we can say or do to pay you back for what you have given my family, and what you have given Sierra, the 9-month old dog, who continues to do well four months later on System Saver.
One Year later 3-2011…My puppy Sierra is now 1.5 years old and has been on System Saver her whole life. We just got another puppy Zeus he is a Shepherd, they play and run just like any other dogs. Sierra is 65lbs and Zeus is around that. To watch Sierra jump over him in the snow, play with the kids on the sleds is the best thing ever and it's all thanks to System Saver.
Kevin, Dee and the Gang