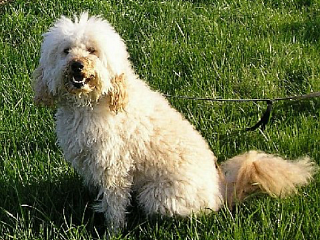 Pogo is a golden doodle, who has been with me since I got him from a rescue group in 2007. He has probably been on System Saver for about four years. When I get ready to take him out for a walk he will repeatedly spring up vertically with excitement – so that I remind him "Rocket Dog needs to sit stay on the launch pad (to forestall "door diving"). He also likes to leap up vertically from a sit or a stand and land on his hind legs, balancing in that upright, bipedal posture. At his last wellness exam his veterinarian remarked that he has excellent range of motion in his leg joints. At ten years old he still likes to be busy doing things, and I think his energy level is higher than mine!
Pogo's photo is definitely representative of how he looks right now. Xan's face did look a little more gaunt last spring- he lost some of the subcutaneous fat there, but his face filled out again after his vet recommended giving him hay pellets instead of just loose hay - she also recommended giving him a flake or two of hay to play with, saying that even if he drops a lot of it our of his mouth, just chewing and swallowing his saliva will help his digestion, as well as the loose hay giving him something to do when in the stall. As I mention in the write up he still gets turn out daily and often more than once.
Both of them have been active and had good range of motion all their lives. I think System Saver has helped preserve and extend their range of motion, but because they hadn't slowed down to the extent of Kiri, I did not see such a dramatic change for the better. They were started on System Saver before much loss of range of motion showed up. Xan started taking somewhat shorter steps, at the time Suzanne Clothier recommended System Saver, but then he lengthened them again when he had been on System Saver for a while. At 32 going on 33 I don't push him hard to extend if he doesn't want to but he is still energetic enough that after several changes of direction he often gets excited and shows off his natural extension at the trot, or breaks into an easy, flowing canter.
All the best, and hugs, Pat Goodmann