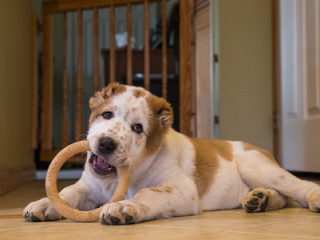 Bauer arrived perfectly healthy from Slovakia in January 2014, a product of two legendary lines of Central Asian Shepherds. Packed with a positive attitude and a fun loving personality, the first 5 months for Bauer were as expected.
Then, at nearly 5 months old, Bauer started to limp. His limp grew so severe that, at dog shows (we own and show several Central Asian Shepherds), Bauer struggled to even so much as walk at a quick pace around the show ring. Rather than run and romp as our other CAS had done, Bauer dragged – seemingly dreading the task. We were told by breeders that Bauer had a very bad case of panoentiitis (a growth disorder.) At home, Bauer was having extreme difficulty with stairs and, on a couple of occasions, we found him alone, laying on the floor, crying in pain. We stopped entering Bauer in shows and had x-rays taken of his elbows, hoping to rule out the possibility of elbow dysplasia (he had a Penn Hip test done which showed he has excellent hips.). The tests were inconclusive with respect to ED, but that they diagnosed a horrific case of pano. With respect to the elbows, there was "possible" evidence of bilateral OCD (a form of elbow dysplasia), but nothing conclusive. The x – rays were taken at 7 months and some elbow bones are not fully developed until 9 months.
Bauer suffered with his malady for another three months when Sue met a canine masseuse, Philip. Philip encouraged us to try Dr. Baker's System Saver. In short order we noticed more improvement than with anything else we had tried. The System Saver was supplemented with river walks. In time, Bauer's limp disappeared and, most importantly, he could live a happy, love to be a dog life where he runs, romps and wrestles with our other dogs. When Bauer suffered and I would return home from a day's work, our other dogs would greet me at the door, tails wagging, jumping and licking my face. Bauer would stay laying….. wagging his tail but unable or unwilling to battle the pain to express his love and happiness. Now, under a strict regimen headed by System Saver, Bauer runs to the door and not only flaunts his joy….. he jumps up and licks my face with the other CAS. Bauer go on long walks where he (if off leash) chases cats and squirrels …… you could never notice the slightest remnant of the pain he suffered. We even recently hiked a stair laden stretch of the Appalachian Trail!
Thank you Dr. Baker for creating a game changing product that allows dogs to live life the way they were born to live it….. moving freely, running, romping, wrestling, exploring their environment and showing love every pain free step of the way!